I just received this email from India. It is the VERY BEST birthday gift ever.
Dear Nani,
At last an awaited day for many people from Pardhi village passed by celebrating Birth Day in their manner. Really you touched many hearts here. Yesterday Chief called me and requested to me for helping giving correct words for birth day celebration. Specially they want to know what should they call Madam.  And they like word Nani very much.
You will not believe there were several young people who want to write birthday card but finally chief gave that work to
Vijay (Vasentha's brother)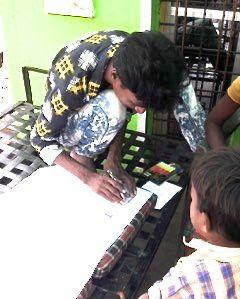 and Soniya (Vasentha's sister) the newly married girl
and they completed it very happily.
They collect good money for their dental camp to celebrate Their Nani's birthday. They are not one who will contribute anything for any occasion but today I surprised when they collect 6000.00 Rupees ($100) for the Dental camp. This time they told me that this is our programme and we will spend on it to express their love to you Nani.
They want to take picture with card and they were saying "HAPPY BIRTHDAY NANI." It was joy to see Chief and his happy face and his cheer.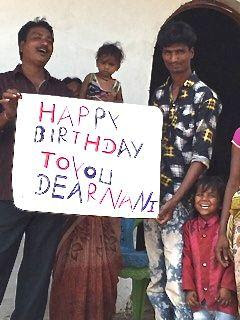 Shini also got good response and four of her dental college friends were happy to give their time for this noble cause. We got little trouble for transportation but God was with us one of my friend help us by providing his car for taking all these Doctors for camp.      
They done good job many people seek good counsel from them and decided to quite tobacco on this day. 
It was good day and I am thankful to God that these people are showing their change. What a reason to celebrate birthday in this way.
Nani it is because of your love for them and thanks for being one of them.
Nani may God bless you on this special day.
Nani have a very bright and happy BIRTHDAY to you from us.