"It is December and as you say Christmas is LONG in India. The Christmas fever has come to Prakash. Girls and boys have started their practices for the Christmas program. RGI girls are divided into two groups; Mary and Martha. We are going to have sports competitions, rangoli (design made with rice and powder on ground)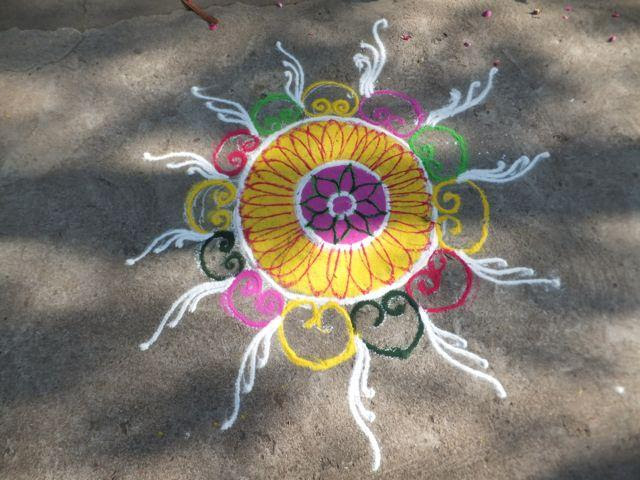 and auditorium decoration for competitions. Based on this, we will be giving the awards. The girls will be performing a Punjabi dance with the help of Liza. Our Pre- School Teacher Manisha has written a Christmas skit.
The girls learned new Christmas recipes last week and invited all staff for tea and snacks.
They enjoyed making new recipes.  You will be surprised to know that Mangesh (the young man who fell and broke both of his feet. He is an alumnus and now a part time staff member) contributed by teaching the girls how to make Chinese Vegetarian noodles. The girls enjoyed it very much they had it as breakfast on Saturday!!! He knows quite a few recipes as he used to work as a helper to a caterer before coming to Prakash. He is willing to teach what he knows   . . . if it happens it's going to be under strict supervision.
I spoke in one of the churches for children's Christmas on the 5th Dec.
The RGI girls made a beautiful card for sending out for Christmas. (shown above.)
The girls attended one-day women's retreat at Dattawadi church where all CBCA women had come together. They participated in the bible quiz on Christmas and won the second prize.
On Thursday when I came to work in the morning I could see a bit of hustle bustle going on among the girls.  Also, they had changed their seating arrangement for the morning devotion class. When asked, they said madam please sit and give us some time. We have a surprise for you. I waited patiently to see my surprise unveiled. Up came Priya; Mangesh's sister, ready to read something from her notebook.
I looked in awe and
she
started a beautiful letter for me.  I listen with tears in my eyes.
She

had written.

'Dear Madam today we are going to perform some surprise performances for you.  You and all our teachers are always busy for all of us, we didn't have a chance to you back something to you.  I only remember how my mother looked but never got a chance to interact with her and know her closely, but I know that a mother is like you.  One who scold, counsels and grabs us close to love us.  Anything new or different that happens in RGI is your idea and our implementation.  You try to make our stay here a comfortable one.  We trouble you so much but you never hate us, thank you for that.  I want to promise you that I will work hard learn to read and write fluently. ( When Priya came to RGI

she

was tenth passed but could not read even Marathi

she

has made tremendous progress in the last one and a half year under the able guidance of our teachers. 

She

is very artistic in stitching and has helped prepare the uniforms this year. 

She

has made many creative items too.

Even though study was uninteresting for her giving her story books to read and steady efforts of teacher, assistant warden and Preschool teacher Manisha we can see a huge difference in her. 

She

is our success story!!) Please forgive me if I have made any mistake in my reading, you know it would have been difficult for me to learn all this but I am sure you are happy to see me read this.' 

YES, I WAS VERY HAPPY TO SEE HER TO BE ABLE TO READ.
After this each room, had prepared a small presentation to perform. We were in the amphitheater. All of them really surprised me by acting so well; they managed to prepare props and costumes with the available resources. They performed skits like, ten bridesmaids, a Christmas stor
the Good Samaritan…
we had a good laugh at the donkey of the Good Samaritan
.  Then there was a skit on Jesus bringing Lazarus back to life. 
All the skits were very well performed.  I was very happy. It is so encouraging to see the progress gradually but surely in these girls from who and where they were when they came to RGI to where they are today.
To God be the glory!!!"