So many of you were so generous in wanting to give a needy family a pair of goats that Loren let Dr. Suresh start giving away pairs of goats BEFORE we go to India,
January 14
.
Here is the exciting report of two such gifts from Dr. Suresh:
"Gifting goats in village area is a very good thing, but as head of this ministry it is always very big task to select appropriate person or family to gift. There are many who would love it. This year also when I heard from our Executive Director about it I started thinking to whom shall I gift it. Really in such a situation God's wisdom really help us to decide very needful family.
With a little research and God's guidance help me to decide prayerfully and two young men attracted my attention.
Project 1: Anup, a18 years old village young boy, who attended our self-reliant training in 2013. Since then he is in my contact, opening his house very happily for the activities of VET MED in his area. We started a VET MED program where young boys fellowship in his house. Eight to ten young men come together and spend some time once a week and spend time in spiritual education and other issues of day-to-day life.
Anup's family is very poor. Living in slum. His father and mother came to Nagpur in search of work and had to settle in the slum. Somehow, Anup completed his 10th grade. Then he registered for our self-reliant training. That is how I came to know about him.
It was very difficult for the family to continue Anup's education after 10th grade.  So Anup wanted to do something to continue his studies. He really wants to learn a trade to get good job. But there was no way out for him to be self-reliant in their present condition. Somehow, I helped him to get admission in Industrial Training Institute in Wadi. This institute is private one and it is difficult for him to pay regular fees. This situation became a reason for worry to Anup. One day he shared it with me in our fellowship and as I was thinking about gifting goats I remembered Anup.
Finally, I gave this good news to Anup about helping him getting two goats. He was very, very happy and with grateful heart he said, 'Now Jesus really take out all my worries, I will take good care of this goats and this help me to complete my studies.'  (Notice, goats will live in the house.)
Yes it is very true, being a veterinarian I know that goats play an important socio-economic role in the lives of these poor village people. Goats really safeguard the security of these poor families and the young man like Anup. In time of trouble . . . a family illness or children's education . . . a goat can be sold and it will help them to solve their problems.
Anup and his family are very happy and gave thousands of thanks to God's people who helped them to have such a wonderful and productive gift. Yes, this gift of goats will defiantly change and transform Anup's life.
Gift project 2: Manish is another young boy who attended our Vet Med fellowship. As he shared, he is from a tribe. His parents migrated Maharashtra (Nagpur) 10 years back in search of work. After getting work nearby as a stone crusher, his father started drinking wine every day because he was tired from the heavy work. This turned into a habit. Heavy drinking and not sufficient food made him suffered with tuberculosis. Because of poverty he had no money to spend on his illness and died in it in 2012. After father's death the family's condition became very pathetic. There was no one to take care of this family. Finally Manish's elder sister left her education in 5th grade and started working as a child laborer to meet the family's needs. Manish has one brother and two sisters. Manish has to find days to go and work. It really hampered his studies. He also wants to do something on his own so that he can get some money as well he can attend his school. He is doing his 10th this year. (The 10th year in India is the make or break year)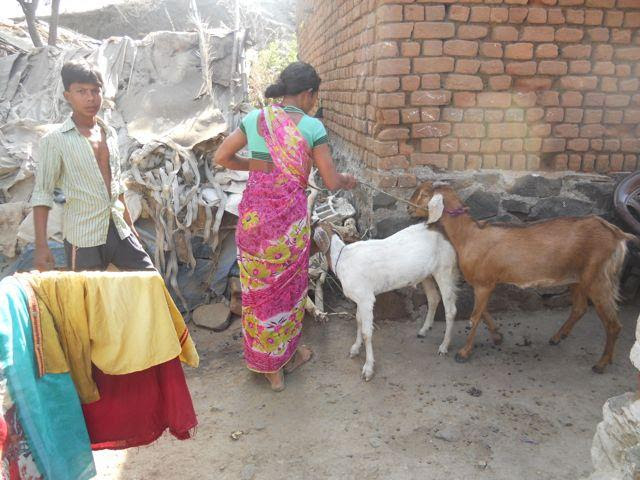 So, Manish was the next in my thoughts to get this gift of goats. When I shared this with this family it was difficult for me to comprehend their feelings. It was very difficult for them to understand the word gift. I explained to them in detail and Manish's mother and sisters were speechless and only said, 'Is it really true?'  I had to make them trust me; still they were amazed to have such unthinkable unexpected gift. What a joy to see this reaction and hidden happiness of these people. It is really beyond words.  I am very happy and thankful to God and you all who gave me this chance to be a part of this meaningful gift.
Defiantly this pair of goat will help them to get milk as source of protein in their diet and also they can sell some of offspring's in the time of need in their problems.
I am very happy that with the help of Prakash, Vet Med could help these young men and their families in relieving huge stressfulness in their lives.
I hope and pray that because of this great financial help, it will pave the road for Anup's future and glorify Lord through his life. Manish has started believing in Jesus and taking part in our spiritual activities in his area.
 I am thankful to all God loving people who generously help for this gift project to help these families in their very stressful life.  May God bless you."