"My name is Crystal Jones.  I had never thought of writing a testimony in my life but I am writing it today as I step out of RGI.  My name is not very much like Indian name because I grew up in Catholic region.
When my auntie and uncle told me about RGI I was scared because in my mind I had presuppositions about what a hostel is.  I had never been to a hostel ever but I used to hear from people that hostels are not good and so I was very scared.  When I read the prospectus I read the rules and regulations of RGI and I was more nervous.  I filled the form and came to RGI.  I stepped into the office and Anu madam was talking to my Aunty when she looked at me she asked me that will you adjust to our rules in RGI, I didn't answer but my auntie said let her try.
When I went to my room my roommates were very nice to me.  I met the warden and thought she is a very strict lady, but every day I cried remembering my family, warden madam gave me a hug and she used to calm me down.  Warden Madam has been much more than my real mother to me.  I lost my father at a very young age.  My mother remarried after that and I was never able to connect closely with her.  I lived and grew up in my paternal aunt's house and they cared for me.
When I came to RGI I did not know any Marathi at all.  I opted for the course in Garment Making and Fashion Designing.  I had two teachers that taught me practical and theory.   They translated the Marathi notes for me in Hindi, when I asked questions again and again they patiently explained everything to me in Hindi too.  I had not touched a sewing machine or scissors before but both the teachers taught me very well. 
Very soon I had gained the trust of everybody in RGI but I don't know how I made such big a mistake that I should have been sent home for that.  I broke the trust of my teachers was caught. I confessed everything when madam asked me and felt very guilty.  When I realized my mistake I wrote a letter to Anu madam because she had stopped talking to me and taken away some privileges from me.  I asked her to give me one chance and to forgive me.  When madam read the letter she said to me that, 'I am very happy that you have realized your mistake, she counseled me and saying I scold and punish those whom I love.' These words touched my heart and from that day I promised madam, myself and God that I won't commit a mistake or break anyone's trust ever again.  After this incident I started feeling that RGI is my house and whatever I do at RGI I do it as if I do it for my house and family.
I learned many things in RGI I never went on the stage ever in my life but now I can lead worship.  I learned to make many new dishes.  I learned beauty parlor.

I learned organization and the most important thing I learned was how to love each other. I enjoyed the Starting Point class. I never knew how to adjust with other people how to love others and care for them, but this verse form the Bible taught me to do so, 'Anyone who does not love does not know God for God is love.'  1 John 4:8.
Towards the end of my stay in RGI I was given a chance with Anu madam to teach from the book, 'Six attitudes of winners.'  I enjoyed it very much.  I enjoyed the Wednesday and Sunday chapels, enjoyed hearing from all the executive staff.  I loved to hear Nagesh sir singing as his songs touched my heart.
I have written all those songs for remembrance because good days go away but the memories remain.  I had never had an ideal person in my life but after coming in RGI and spending a year here I have one ideal Anu madam, because of her contribution I was able to change my life.  She taught me to always think positively.
I loved going to picnics.
Before coming to RGI I had a void in my life, I always felt something is really missing in my life.  When I was 7 years old my father died and my mother became a widow at a very young age, she got married to her childhood friend but unfortunately he was a non-Christian.  I was never able to accept him as my father and blamed God for everything that happened in my life.
At RGI I got to know more of Jesus. I realized that whatever He does in our life is for our best He has the best plan for us and we should never blame God for anything that goes wrong in our life.
I got surprises in RGI the Valentine day surprise rose from Loren Nana that I got was really special and I will never forget this day.  Also the surprise that my friends gave me on my birthday was special.  Warden Madam and RGI girls had baked a cake for me and I cut it.
I loved taking part in the dances, singing and all the other activities.  All the staff at RGI and PBI has played a very important role in my life and every moment of mine spent at RGI was not only special but also interesting, adventurous and full of sweet memories.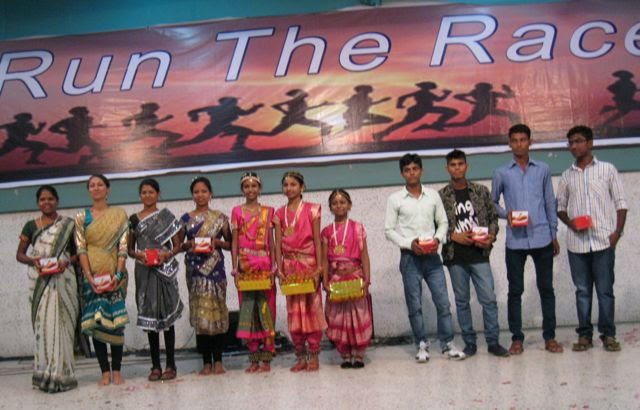 RGI family has given me lot of love that I had never got before in my life.
'Some promises are always unspoken, some promises are always unwritten.  Feel the magic of true relation with God and you will realize that God's plans are always unspoken.'
These sentences are always in my mind and I have realized that God's plans are always unspoken but are the best plans for us.  Now I know that Jesus has made good plans for me and I only have to trust him and he will fulfill His plans through me. I want to thank everybody at RGI for trusting me and giving me a chance to change because of which my life is completely changed now.  Thank you RGI for making my life."
Before going home Crystal stayed back a little extra and helped make the night dresses for the new batch. She also won the best student award for her class.