Well, I guess this is a story of a Saulette into a Paulette.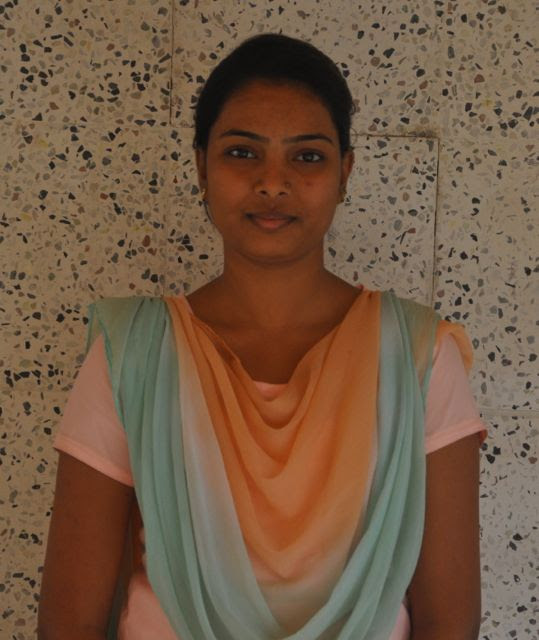 "My name is Raka. I come from a Christian family. My mother died of ovarian cancer at a very young age. I have a brother who also studied in Prakash. My mother had asked my father to remarry after her death, as both my brother and I were very young.
I came to RGI on 1st of August. I did not want to come to RGI because I had some other plans for my life. But my brother who had already studied in Prakash wanted to send me to RGI and therefore I was sent to RGI by my family. But little did I realize that this turning point was going to become a Starting Pointin my life.
I was a regular attendee of the church but I went there just for namesake. I even sang special songs for church.  
I thought that God doesn't love me or hear my prayers. I lived with my maternal grandmother after my mother's death and thought that she is the only one in my life who loves me. I had no feelings or affection towards my father, brother or my family.  
As I grew up I sought love and got into a relationship with a non- believer. All I cared was that he said with his mouth that he loves me. I went against my parents, behaved against their will and lived a life against the will of Christ my Savior. I was sent to RGI by my family. I cried to go back home for almost two months. I stayed here and broke the rules and did not listen to what I was asked to do in the beginning. But Anu madam counseled me like a mother. Very soon I realized that I have been doing very wrong things in my life. At RGI I got a housemother who loved me like her own daughter, she speaks words of experience, full of wisdom. Because of the teachings at RGI my life started changing. I thought nobody will accept me for all the wrong doings in my life. I even thought of ending my life. But when I talked to Anu madam one day and said I want to change, she told me, 'If you want to change in your life, the change must be seen by other through your behavior, attitude and actions; not just your words. You have to start making the right choices, remember how you live today is going to affect your tomorrow, you must think whether what I am doing today gives me a hope of better future or not. Only Jesus can change you.'
I had accepted Jesus as my Savior, but I thought that it is all for namesake. It is in RGI that I understood that Jesus loves me; he wants to be active in my life. When we learned the lesson Paul in Starting Point Class I understood that if Jesus can change Saul to Paul, he can change me too! I decided to allow him to bring about change in me. He is changing my heart day by day. I have surrendered my life to him.
I have tears in my eyes when I think about my father and my new mother and how I treated them. I never cared for them or about their emotions. I only looked at my father as a source for providing my needs and wants. I was able to understand the love for my family when they came to visit me in RGI. My whole life revolved around my grandmother before. I had given no place to any other relationship in my life. I never realized all this until I came to RGI.  
Coming to RGI started new relationships in my life. I had felt that I will not get a second chance in life and should end my life. But everything was happening in my life according to my Saviors will. Everybody supported me including the staff at RGI, my pastor Nagesh, my parents and my brother. Once I started a renewed relationship with Jesus Christ everything else started changing in my life. My troubled heart is now peaceful. I had never shed a tear for my father ever before but in RGI I cried and prayed for him when I came to know he is not well. God has brought change in my life just as he changed Saul into Paul. I praise God for bringing me to RGI I got Jesus and new relationship with him through Starting Point in RGI. He has spoken to my heart through the verse John 14:18, 'I will not leave you as orphans I will come to you.' I seek to spend more time with my Savior and want to spend all my life for his glory."
Raka is studying Pre-school teacher training in RGI…our first year teaching this course. When she went home for Christmas break her father who is an auto rickshaw driver and her family testified that she is a changed person. He could not believe this was his rebellious daughter.
I was in utter shock when I was told this story. I had observed this stunning young lady and had seen a beautiful expression of a servant's heart.