ORIENTATION…PBI:
Report by Moses:
Our orientation program began and all the male students received their bed sheets and pillow covers. With the help of second year students we taught them to make their beds.  For some time it was chaos in all the rooms, as all were supposed to make their beds.
(Some of the boys have never slept in a bed, let alone have bed sheets.) Later they did a good job in cleaning their rooms, and making their beds.
It might take some time for the students to cultivate new habits in them so we will keep repeating our teaching sessions.  Since few days I was really concerned about the cleanliness in the students' toilets. I had to sit with Solomon and plan out few things and new teams to clean the toilets and we are also giving timely teachings and instructions to our students on how to USE toilet facilities at Prakash. Most of these students have never had inside toilet facilities.
Many students did not and does not have the concept of dustbin and to tell them to throw the trash in the dustbin is like somebody taking away their freedom that our forefathers and freedom fighters got 67 years ago LOL. (This is hard for me to believe. Whatever gave these students this idea of freedom? Is cleanliness only a Western concept?)
We have worked with their class schedules and began Starting Point class.
This is best class for teaching these new students about Jesus.
I went yesterday to smell the toilets…they were clean.  Praise God!  We are making some progress.
ORIENTATION:…RGI:
Report by Nupi:
Just wanted you to know that the old batch of girls have left and the new batch has come in.  As usual I wanted to finish all admissions in a week, but there arise problems that I sometimes get annoyed to hear…they are here, they are there, some can't reach on time due to financial reasons, some due to floods in the rainy season or strikes called by anti-social elements. But yes all the girls have arrived.  It seems orientation never ends.  We have orientation and counseling almost every day with girls getting home sick, finding it difficult to adjust to new environment, tight schedules and new people.
We had a lady doctor come to RGI and check all the students.  Her observation is "You have a batch of girls which has quite a number of malnourished and sick girls."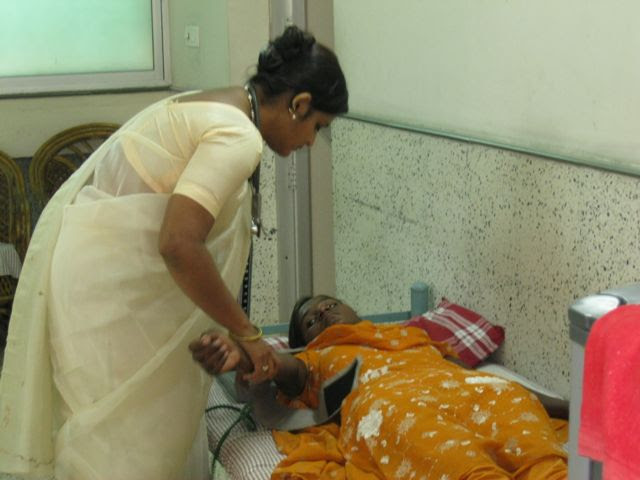 She had suggested we give them a good dose of  multivitamins, calcium and iron to bring them up to a good healthy condition.
A few are diagnosed with dental problems too and treatment is going on.
Getting the girls to eat the balanced diet that we give them is another challenge.
I had to personally give them lessons along with the housemother on how to keep the toilets and the bathrooms clean.
Getting them to study regularly for a continuous stretch of time is a challenge for the housemother.
The cook lady has to cook extra number of chapattis with the increase in the number of girls.  Yes the girls are helping in the kitchen; we do have some girls that don't have any cooking skills. It is good that the cook lady also helps to teach them.
We have girls that come with minimal basic commodities like clothes, soaps, and sanitary napkins.  Thankfully some staff wives have brought us some Punjabi dresses that the girls can use until the uniforms get stitched.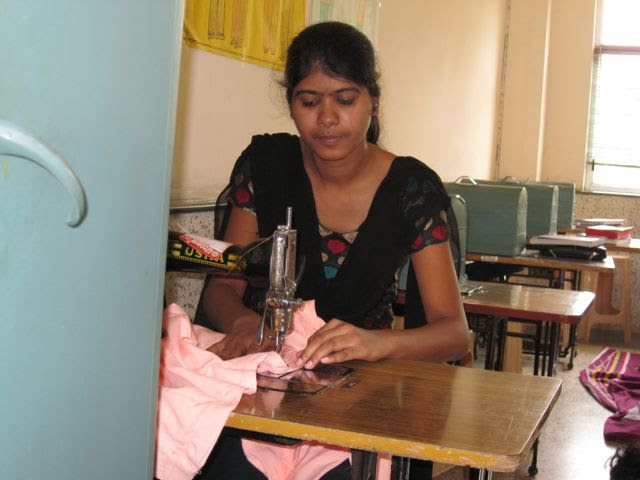 One girl from last year has agreed to stay back for extra month to help the teachers to stitch the uniforms.
We have four classes, Tailoring, Pre-school Teacher Training, Computer and Garment Making and Fashion Designing.  Teachers are focusing on the basic this month because there are many students that have passed 10th and 12th but are not up to the mark as far as studies are concerned.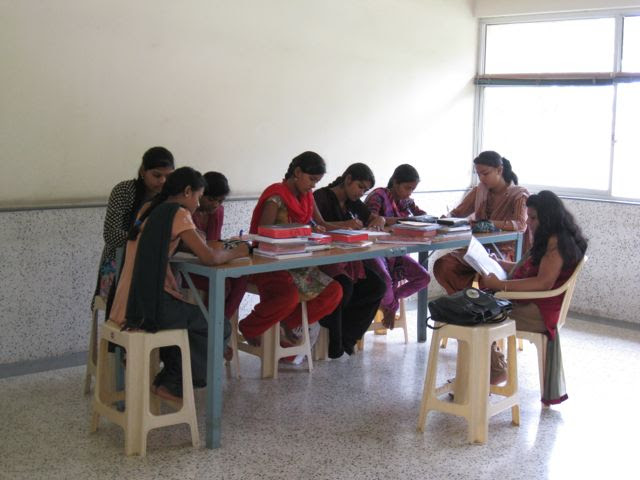 Bible class is very basic too, this week we start with Starting Point, which proves to be a very handy tool for the starters that we have.
We need your prayers, responsibilities sometimes seem overwhelming and one feel like give up but the Lord says, "My Grace is sufficient for thee" We are taking it one day at a time.
Just as I was writing this two girls come at the office door asking," Madam please, May I come in?"  My mind goes…"Do I have another girl crying or sick?" but to my amazement they enter with a small bouquet they made in the recess time with weeds and flowers from RGI garden and say, "This is for you."  Its moments like this that make everything that we do seem worthwhile. These girls are so adorable and lovable.