Christmas is blessed no matter when it arrives. While in India in October we set up Skype with our executive staff. So each Monday morning (for them) with cups of coffee in hand, we have a time of reviewing the activities of the pasted week. It has been amazing what details you see and how close you feel. Also, much easier to handle "touchy" situations, no reading between the lines, etc. (I could just kiss the person who invented Skype) While talking with the staff a couple of weeks back I noticed they were all in sweaters. I asked, "Has it turned cold?" "Have you gotten sweaters for the students yet?" Well, YES it was cold and NO the students had not received sweaters. Partly, it was our fault for not sending funds in advance with faith that donors would respond with enough finances for sweaters.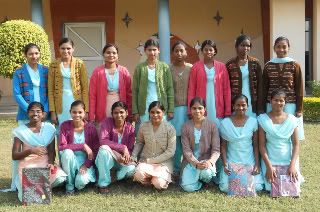 Nupi turned to Moses and said, "We need to treat this URGENTLY. It is now wise to wait no longer."
Here is Nupi's report:
"After the meeting was over Moses and I decided that we must go shopping to finalize the sweaters that very day. So we went together along with Padmakar (He has the money).
We found very pretty, colorful sweaters for the girls and boys. After the selection, the question was, "Do you (shopkeeper) have the required number of sweaters?"
It was good that they did have the number required for girls, but for boys, the search started and we sat and sat in the shop for the extended five minutes ONLY, until it was almost three hours. At last, we told the shopkeeper that we would come back the next day for the boys sweaters.
On Tuesday morning after the Starting Point class the girls were given their sweaters. Their joy knew no bounds. I know it's beyond your thinking but this is true—a small gift had made their day special. The gift means more than words can describe. They burst with joy and it was fun to see them chirping and each one trying the sweaters.
I shared with them that you are getting these sweaters because God's people have sacrificially given for you. They are not rich, but have shared from the blessing they have. After having heard this there was an instant response from one of the girls, "Madam, we want to pray for these people and thank God for their love and gift." So all the girls including staff offered a thanksgiving prayer for all the donors that have made it possible for Prakash to buy these sweaters.
Yes, it does mean a lot, to each student, and, seeing their joy, to us as a staff!"
Each girl has written a short response to this kind deed. I would like to share a few of them with you.
Jyoti "This sweater is special to me because you have never seen me, never met me yet you thought about me. I wear this sweater daily and feel so warm in it. I will pray that God will fulfill all your wishes."
Snehas "When I see the pretty dark brown sweater it reminds me of the concern and love that you have shown for me. May God bless you."
Poonam "I love the sweater that you gave me. It is sky blue. I will preserve this sweater as a reminder of your love for me. Thank you so much for your gift."
Priyanka "This sweater reminds me that people are sacrificially collecting one penny for me to be able to receive this gift. This sweater has made me feel that there is someone who cares for me. I praise God for you. May God bless you abundantly."
Radha "I wished that someday I should have a brand new beautiful sweater and my wish has come true through you. Thank you so much. May God bless you continually."
Anupama "I thank you so much for the gift of sweater. I had never expected to receive such a wonderful gift. After receiving this gift I learned one thing in life that I should help others in whatever possible way I can."
Ashwini "Thank you for taking the initiative to gift me a sweater. What touches me is that you did this voluntarily, you did not HAVE to do it but you did it. I am proud of your concern and interest in me."
Second year students received colorful Punjabi dresses.
The boys received their new sweaters the following day. Although the boys are not as verbal, they too appreciate the new warm sweaters. Some of the boys expressed that the sweaters were too good for them. They simply have never had anything this nice.
Do you feel as blessed as Loren and I do? You have been prayed over by young Indian women. It means so much to have you partner with us in the multiple ministries of Prakash.