We received this sweet report from Dr. Suresh about Vasentha's widow and family. How wonderful to see her carrying on Vasentha's legacy even in her grief.
"Today I had been to Dahegaon to visit Sheshi's class. Some of the children had morning school so had gone to school and only half of Sheshi's class was there.
She does this class daily and helps the class with their studies and gives them Bible stories and songs.
The people of her village had requested her that they want to hear a chapter from "They call me Sir" Nani's book. 
They wanted to hear the chapter about Sheshi's wedding. So today I read aloud the chapters from 22-27. (
He is reading in English and speaking in their tribal language.  Just try to do that!)
 And everybody just LOVED to hear it. I could see the tears in the eyes of Sheshi and her father.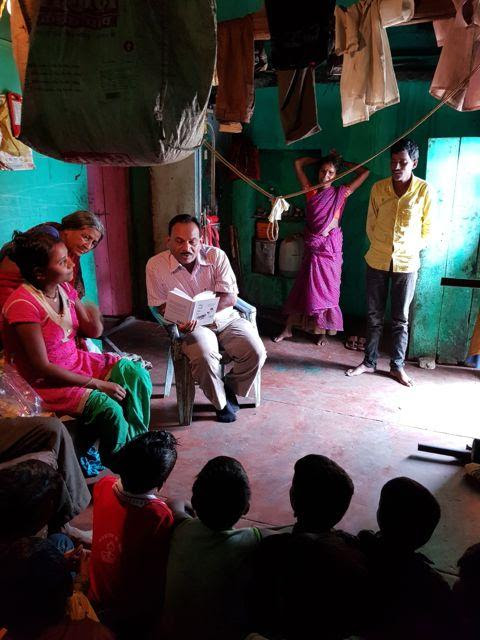 Their family still remember Papi's presence at the wedding even after it being such a hot summer day.
The people in Sheshi's village really want her to continue teaching their children and also wish by from their heart that one day they get to meet Loren Sir and SHE. Sheshi's aunt was so surprised about the details given in the book that she said, 'Someone can make a Film on this book.'
Little Loren 
(Loren's namesake and Vasentha's son
) is attending a school that is English Medium. (
The first student ever to do so.
) It is 5 km from his village.
The school Principal is giving some fee concession to him. As a honour of Vasentha's good work in that area.
But this School has Classes only up to 5th Grade. And after 5th Grade Sheshi is planning to move back to Vasentha's Paradhi village. Loren is doing really good in the school his Principal is happy about him." (It would be so awesome if Little Loren could be the first Paradhi to go through an English Medium school. Pray for extra funding for the cause. It is only about $1000 a year but an eight-year commitment.)