Well, we are back home in Montana. Love the snow after some days in the high 90's in India. I much prefer the snow to the heat. I thought it would be fun to just recap our trip with some new pictures. So here goes . . ;
This is where we buy our fruit, then another place for veggies, and another place for bread, and another place for grains, etc,etc.Takes a half a day to just grocery shop.

 Village trip to give my book to the family of Vasentha. The Chief with Loren are great friends. He eventually gave this jacket to Loren. He considers us family.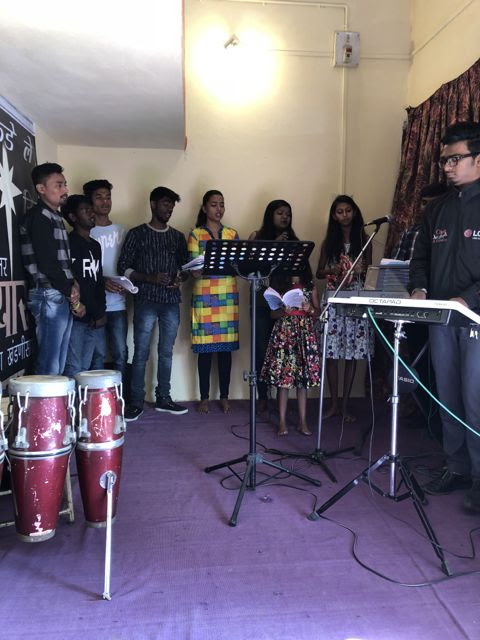 One of the Prakash churches. There are 7.

  Of course there was the constant noise of the construction going on. These poor men carried every bit of sand and cement to cover this entire side of the building ON THEIR HEADS. up six flights of stairs. It was all done in the six weeks we were there.

Another village visit

 Girls giving Loren a Thank You for the Valentine roses


The tribal wedding was an extraordinary experience. Totally unbelievable.


Giving vaccinations to the gift goats and visiting the lady's home.

 Visiting another Prakash church.
There are several Prakash alumni as members of this little house church.

 Q&A with RGI girls.  I had at least one a week.

The whim of a bullock cart ride gave Dr. Suresh a another inroad to a new village. They truly want him to visit them on a regular basis.

 Loren inspecting the building of another of the village Prakash churches.

 Loren and a Prakash pastor praying for one of the other pastors, after the board meeting. 
 And the most fun was the trip to the movies with the RGI girls. Renting a bus, getting them popcorn and cokes and all was SOOOO worth it. Their excitement didn't show until later. They had to have time to process this whole experience.
We are glad to be home but miss all the people of Prakash. We really do need to have more support for this ministry. India has put an 18% tax on EVERYTHING so the costs of the ministry have gone up dramatically. We pray that you will find it in your hearts to give and pray more abundantly.