One of our last year students Mangesh, an orphan boy, had a tragic fall from the first floor of a building while repairing the air conditioning unit. He broke both the legs. Actually, it is both heels are crushed. They will need to be replaced. He will be going through major surgeries in the next week or so.
Mangesh's sister is attending RGI.
Moses wrote this report:
"Saturday some of our church members and myself visited Mangesh in Amaravati.  He was very happy to see us and started crying as soon as he saw us.  We could spend some good time with him in his auntie's house.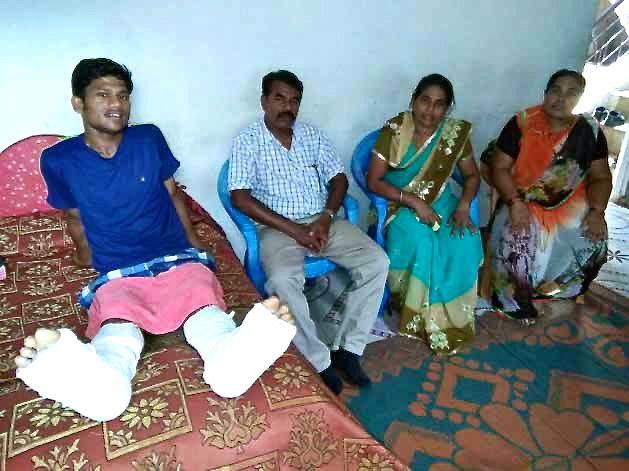 So far his company has paid all the medical bills but, as of now he is not very sure where his surgery will take place he has requested his company manager to take him to some private hospital but it seems that the company is convincing him to get admitted in government hospital as it is cheap there.
Maybe by tomorrow evening we will come to know the final decision regarding his surgery.
He has become a bed patient as he cannot walk and going to bathroom has become a difficult task for him.  The company has NOT provided a wheelchair for him. His uncle has to carry him to the bathroom every now and then.  Mangesh is almost fed up of being in the bed. He needs a wheel chair for movement in house and visiting doctors."
Mangesh is one of those students who stand out in our memory.
He was always on the leadership teams and that smile was always there for the entire world to see. He has been such a witness in his workplace. If the company delays much longer there will be permanent damage.
Keep him in your prayers.