Erik got to see up-close-and-personal some of the problems Loren needs to deal with. I'm not sure he was prepared to get down in the septic tank to fix an issue. The tank was pumped so the staff thought the problem was solved and no further action was needed. They had to get Government permission to do the pump.
When Loren investigated . . . the problem was far from being solved. "OK, Erik. Go for it," teased Loren. We didn't actually make him get in the tank, but Loren said, "We are not to high-and-mighty, that if need be, we would get down in the tank."
Shopping is always a time consuming part of our day, so Erik was along on these expeditions. I was reminded he had not had a
tuk tuk
ride when I saw the decorated vehicle.
So while he was in a shop with Loren, I had Vipole arrange for a ride back to Prakash campus . . . Adventure to remember.
One treat not to be missed is pizza with a staff family at Domino's. When I told Erik we were going to Domino's he thought I was teasing. He loved the Indian style pizza.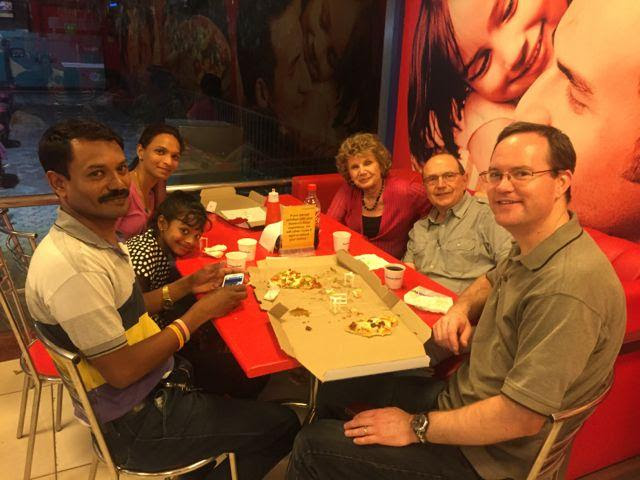 Student church is always a delight to witness. The students have a major role in the service.  This gives them confidence and leadership skills. Erik liked the service. He also went to a house church and was delighted in the number of former students that were in attendance.
The highlight of his trip was the meeting with eleven former PBI students that ASKED for a meeting. They brought the snacks, use-and-throw plates and cups and served everyone. UNBELIEVABLE! The servant's heart of one young man was so evident.
Testimony after testimony told of how Prakash had changed their lives. Many said, "I could have learned my trade in many places, but I would never have learned about Jesus as my personal Savior, or the life skills that make different from other employees." When asked, "Did Starting Point help you in your spiritual skills?" There was a resounding, "HO." (yes)
Loren and I wanted to bust our buttons with pride in these young men. If only these eleven make a difference in this world, it is soooo worth our struggles and sacrifices.
You can never have a complete visit to Prakash without dinner in a staff home. Nupi and Suresh always have a great meal and they know Nani loves Nupi's kheer for dessert.
 Erik did get to visit a couple more staff homes.