Another student story from Moses:
"Mithi comes from the outskirts of Nagpur itself.  His father died in 2009 from TB.  Mithi says that his father was a drunkard and often used to land up in fights with his mother and us kids too. Once his father came in contact with a pastor and started attending a church. All the family members were happy to see the changes in him and all were encouraged to go to the church regularly.  After a while Mithi's' father left drinking but it was too late for him to do that as his TB was at final stage. So at age 9 his father died leaving two boys and a wife.
Since father was the only earning person in the family it was difficult for the mother to take care of the house.  Mithi says that there were times when there was nothing to eat in his house but his mother did not give up and with lot of difficulty she got a job in a garment factory. His mother irons clothes from morning till evening and earns for her kids.
When the Pastor came to know about Prakash Institute he brought Mithi to Prakash and by Gods grace Mithi got admission in Refrigeration/Air Conditioning course through new Government online admission process. Mithi is 15 years old but he looks like a 10-year-old boy.  When I took him to the government office to fill up the forms all were looking at him and were asking me, "Will he be able to do this course?"  Well everything is possible with God!
Mithi and his family have not taken baptism yet but they do attend their church regularly. His mother has signed papers that it is OK for him to have our spiritual training. I believe that his experience in Prakash will definitely lead the entire family to confess their faith publicly. (In India you have to register with the Police Department when you become baptized.)
For Mithi, this opportunity in Prakash can be a turning point for his life.  He believes that there is no option left for him than to start earning as soon as possible.  He saw his mother suffering for job due to not having proper skills and education, but Mithi is determined to work hard, study hard and complete the courses in Prakash. He himself worked in various places and shops at a small age.  He worked in an Indian grocery store for ten to twelve hours a day just to earn just enough bread for the day.
He is good at Bible study and very eager to answer any question asked in the Chapel or Starting Point discussion.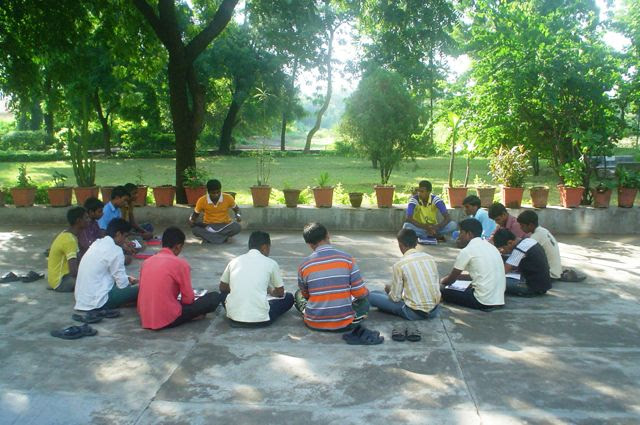 He is 'PETER' of Prakash Boys Institute. And we believe that on this rock God will build His Church. Amen!"
Empowering marginalized young Indians to be self-reliant.  Isn't it great to see this at work?