There are actually NO words that can express how overawed I am by the multitude of you who responded to my plea for "Congratulations to the Students." The tears flowed as I read your sweet and encouraging words. Thank you simply is not a big enough expression of my gratitude. We were blessed and from Nupi's report you will see how the staff and students were also overwhelmed.
Graduation 2015
Well what a way to end the year!!!!   With all the graduation responses coming in from USA we were overwhelmed to know how much we are prayed and cared for.   Yes, this year's batch of students was amazing.  It is so difficult to say goodbye to the students we have nurtured and created a bond with, but we need to release them to let them fly into the world to prove themselves and achieve what God wants them to achieve.
We had the graduation program on Saturday the 25th of June.
We started our program with a fun filled praise and worship with action songs.
PBI students presented a theme song, accompanied by a number of students who played guitar and drums.  All these students learned to play these instruments while they stayed at Prakash it was so encouraging to see them all perform.
(Notice the white honeysuckle on each of their hair coiffures.)
Joy welcomed all the guests and the board members present.
The chairman of the Prakash Indian Board gave a wonderful exhortation to the outgoing students.
I, Joy, Moses and Nagesh read the graduation responses that the donors had sent.  It was such a blessing translating them and even so reading them.  Yes as you said this was the best graduation ever.  So encouraging to see all the busy people in the USA care enough to take time to write these encouraging thoughts to the students and staff.
PBI students presented two dances with a secret wish of surpassing the RGI girls.  There is always this secret competition between boys and girls as to whose dance is better.  It is good in a way though because it brings out the best in them.
RGI girls presented a very different type of dance this time a classical form on a worship song.  Everyone loved it.  Liza, (Nagesh's daughter), along with Hannah, (Moses daughter) and Khushi, (Sunil's daughter), taught this dance.  Even though they are young they did a wonderful job of teaching RGI girls during their summer vacation.
We gave away certificates to the students and also gave awards to the best students of the class from each class.  They were given coffee mugs with the same theme printed as is on the banner.  Special gifts to the little dance teachers too.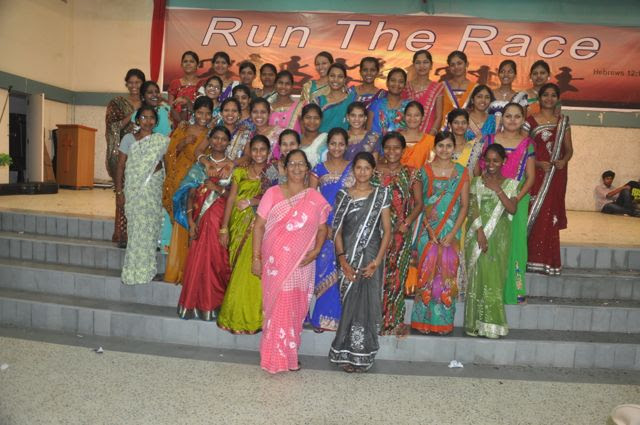 Two students one from PBI and one from RGI shared their testimonies.  I will be forwarding the detail story of this girl and the others in the days to come.
The computer girls had prepared a sideshow of the events of the year.  It was a job well done…one that I was proud of.
Sneha (Remember the wedding Loren and I attended in December???? Well, this is the bride and she has become involved in teaching the RGI girls English and etiquette.) She also made it a point to attend the graduation in a sari since all the girls wore saris.  All of them looked very different and beautiful.
All of us enjoyed having a vegetarian dinner after the program.
Thank You….Thank You