This is another great report from Dr. Suresh and his Vet-Med Outreach…just one of the numerous ministries under the umbrella of Prakash 4 India.

"Our veterinary work is helping many needy village people around us.  Specially I take time to visit all goat projects and everybody is doing good and feel happy to have their own goats.  I am happy that some of our ex-students of the Self-Reliant programme are trying to get loan from bank to start their own business.  I am happy that we have some contribution in their lives through our self-reliant training programme. Now days I am trying to help them to get proper medical care, as swine flu is on high nationwide.  This is really something you can pray for us.

I has been so very hot.

Vanda is doing good.  He and Sheshi is happy with their motorcycle. (Remember, he received Dr. Suresh's motorcycle when the CONNOR motorcycle was given.)
We started another 'Village Club' at Vanda's old village.  This is the village where we gave bags of rice. Still many people came to me and thank for rice, head of the village gave special greetings from him and from village.
I finally get chance along with Vanda to visit Akash (blind young man), as he wanted some soaps, Colgate and other things.  He is doing good with his training in candle making, weaving and canning.  His principle is happy with him and he really admired Vet-Med and its work among village people.
I got opportunity to meet other blind young students in that school.  Really I am very happy that I am the part of Vet-Med which is really unknowingly sowing the seeds of life among these hopeless lives.  I am really grateful to Lord for using us for His glory.
Please do pray for Akash and his training so that he can be self-reliant in his life.
I am very thankful to you all who is supporting us and pray for us, because of this only we can help people like Akash.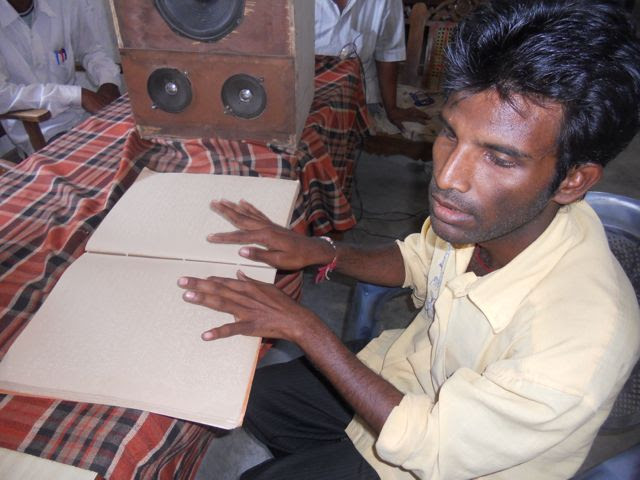 May God bless you and make you channel to bless many."
REMEMBER FREE FUNDS
I have mentioned this before but thought it was worth redoing.
AmazonSmile Foundation…When you shop at AmazonSmile, Amazon donates 0.5% of the purchase price to Prakash Association U S A.
(This is Prakash for India's registered name.)
Bookmark the link http://www.smile.amazon.com/ch/23-7003577and support us every time you shop.
Amazon donates to Prakash Association U S A when you shop @AmazonSmile. http://www.smile.amazon.com/ch/23-7003577  
#YouShopAmazonGives
Just to let you know, the government has found yet another way to harass us. Keep praying. Just when we think we have a problem under control they jab us again.
PRAY that staff does not get discouraged. PRAY that Loren does not get discouraged. PRAY that much needed donations will come in.
"Speak up for the people who have no voice, for the rights of all the down-and-outers. Speak out for justice! Speak up for the poor and destitute!" Proverbs 31:8-9