This is a wonderful report from Moses, the Dean of Students at PBI.
Nangesh comes from a very small village called Kakda. He has one elder brother and two younger sisters.  His father is a drunkard and never bothered about kids.  It was very common for mother and father to fight in the house. Finally when Nangesh was 12 years old his father left the family and nobody knew where he was. All in the family were shocked, as the father was the only earning member in their family.  Mother who was uneducated had no other option than to work as maid in some houses and support her family.  She was trying her best and was working hard for the sake of her four kids. But she became weak and started feeling sick. She had no money to go to the doctor and in spite of sickness she continued working and just after two years in 2008 she died.  Four children were left alone in this world in a small hut.
Nangesh's aunty took them with her but unfortunately she had no capacity to feed them all. So finally all four decided to go back to their house in the village and start working instead of becoming a burden for others. Both the brothers worked as maids and started earning.
One fine day a pastor who was doing ministry in this region came to know about these kids and visited them. He then was able to get them admitted in a Christian hostel.  The elder brother did not want to move out of the village so he stayed back and continued his work as studies as well.  Nangesh studied till tenth in that hostel and then he was advised to join Prakash by his hostel authorities.
When Nangesh came to Prakash he told me that his hearing capacity is very less.  Since childhood people used to tease him as deaf (Bahirya) and very few knew his original name is Nangesh as he became famous as Bahirya (Deaf).
In Prakash campus we discourage students calling each other by nicknames. When Nangesh came to Prakash he was always called by his original name and he felt very much respected.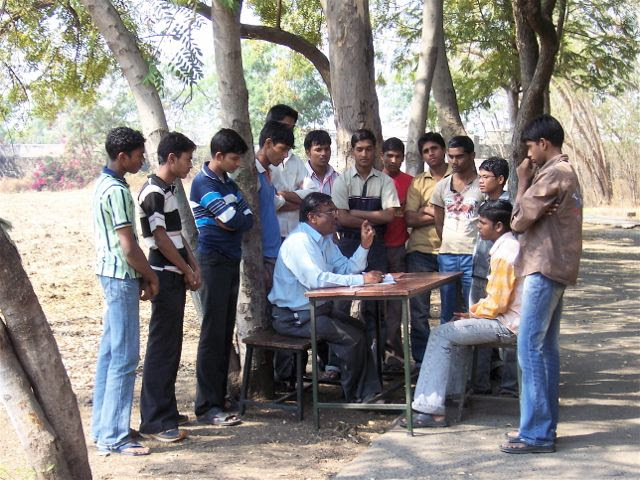 This is Nangesh's second year Air conditioning and Refrigeration student and many times I ask him jokingly, "Nangesh do you still have hearing problem?" He says, "NO." Now I can hear properly. I am no more a deaf person."  Hurray!!! Prakash policy has healed him. Since he was often called "Bahirya" out of teasing he believed the lie and often thought of himself as a deaf person. We do believe that environment can bring changes in the lives of people Nangesh is one of the best examples of it.
He worked in hotels as a cleaner boy, waiter. He worked in the farm as a laborer. He also used to go house to house for repairing gas stoves.  Sometimes I feel, "Is there any work that he cannot do?" As he worked with the caterers as a coolie boy he used to see people dancing and very soon he too learned to dance. He is a very good dancer and when he came to Prakash he started teaching dance steps to other students.
Since Nangesh studied in a Christian hostel he came to know about Christ and accepted Christ as his personal Savior. He got baptized before coming to Prakash and he is very proud to be a follower of Jesus Christ.
Nangesh is in second year and very soon he will be finishing his studies in Prakash.  As of now he is almost ready to go out into the world and be a Refrigeration mechanic.  His desire is to start earning soon so that he can take care of his sisters. I personally met his brother and sisters.  One thing I have noticed in them is, though they went through a tough time in their life they are not bitter with God. This attitude of theirs encourages me to be closer to my God.
After his training here in Prakash, Nangesh feels self confident as he has got the job skill that will help him to be self-reliant and at the same time life skills and spiritual skills that will help him to stay closer to God.
Kindly pray for Nangesh that God will fulfill his dreams and that the ministry of Prakash will become a shelter and step-up platform for such needy young people of this nation. As this ministry is not only about people like Nangesh but the family members too that are linked and dependent on them.