In all the years I have been coming to India I have never seen a village as poor as the one we visited for the first time last year. It makes my heart break to see all these villagers with skin tightly-stretched-over-bone. They simply do not have enough food.

              
Dr. Suresh used to be able to work in this village, but when Vanda moved the Chief was so angry that he forbade the doctor to return. About a year ago, he recanted his edict and Dr. Suresh and Vanda have begun to visit. We want to start a children's ministry here. This is one of the reasons for Vanda receiving the motorcycle.
This was the village where Dr. Suresh gave the pair of black goats. When Loren and I visited to take pictures we felt led to do something more for the whole village and having funds to do so we decided to give 10 kg. of rice to each family. This will supply each family with about 3 weeks of quality food.
When we visited the rice broker I was appalled by the quality that these people could afford. It is the dregs left after the rice is sorted…the half-rice with stones. The quality we bought was way above what they could afford normally, but not even close to TOP quality. In India the quality of the rice you buy is EVERYTHING…status, cooking time, taste, etc… How many of us in America just grab a bag off the shelve and never even think about, "Is this long enough grain size for my status????"
First we went to buy the rice. Then Dr. Suresh had to bargain with a small lorry driver to deliver the 200 kgs. to the isolated village. Drivers are very reluctant to drive their vehicles over such rough tracks.
Also Dr. Suresh had to purchase heavy plastic bags for each family to receive their rice in. Finally, the day for delivery arrived. The lorry driver became so intrigued with what was happening…really in total disbelieve…that he stayed and helped to fill the 18 bags with rice.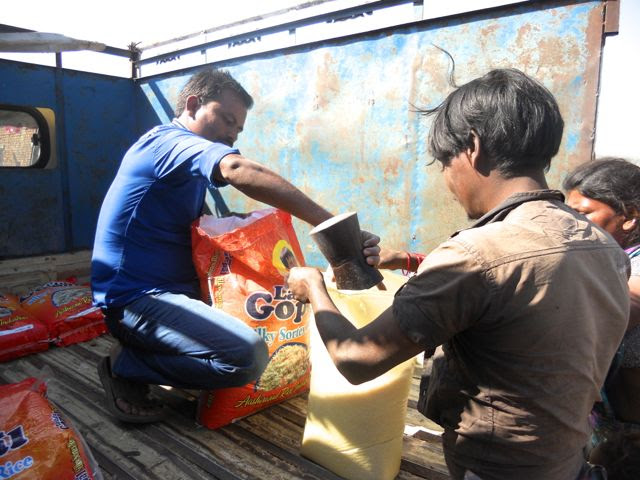 Needless to say, the families were overwhelmed with gratitude as the Chief handed out the rice bags. They could not believe that we did not want something in return…a true gift without strings attached.
Thank you dear donors for making this gift possible.
Just a side note…I took this picture when we bought the rice. Here is a young man making his living by selling jalebis (a VERY sweet fried pinwheel,) with simple equipment BUT he is on his cell phone. Again a status symbol.