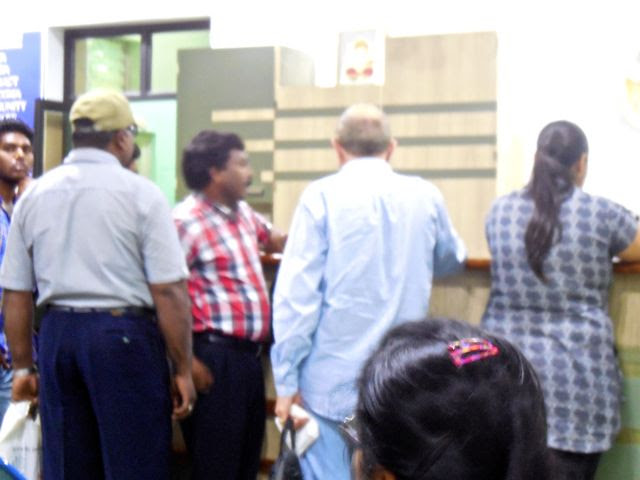 Yesterday, Nagesh, Loren and I took Solomon to the "Best Eye Doctor in Nagpur," as per last weeks' article in Times India. He is the doctor I allowed years ago to work on my eyes. Loren was happy that we were able to get an appointment with this noted doctor so soon.
Before he started his lengthy examination, the doctor asked Loren why he was in India. Loren told him about Prakash and Nagesh told him, he was a product of the education and life skills he had received at the institute. Anyway, the doctor must have mulled these things over in his mind as we waited for the eye drops to work.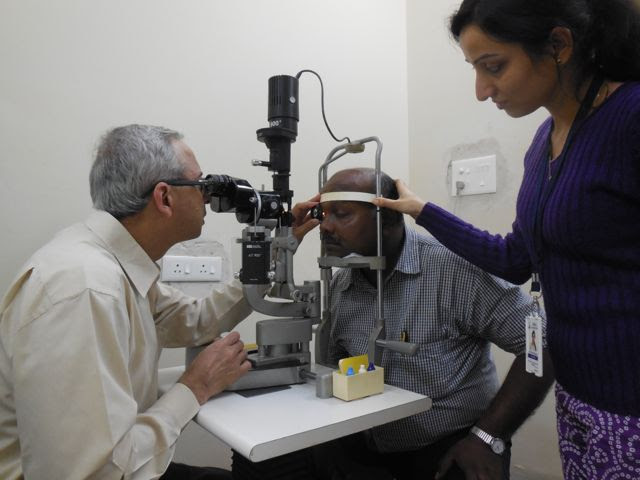 After returning 45 minutes later to the exam room, the Doctor gave Solomon the BAD news. He will never regain the sight in his injured eye, but the doctor was very concerned that we keep it healthy with regular exams and for Solomon to take extra precautions to protect his good eye. Among other things, the doctor said Solomon's iris had flipped over, giving the cloudy look, but his retina was not detached. We are setting up a special fund to make sure these regular visits happen. Thanks to your generous responds, we have the money to do so.
While, giving Solomon this 'NO HOPE" news, the caring doctor said, "and what do you do for the Institute?" Solomon explained that he was Warden/housefather.
 The doctor then turned to Loren and asked, "Do you have girls at the Institute?" Loren explained about RGI. The doctor runs a charitable funded training program for Optometrist and asked if we might send several girls to this training program. He said, "There are plenty of eye doctors, but we do not have enough girls for assistance and optometrist. It is a job they can do in the villages. We would really be interested in having your girls in our program."
WOW!! Just think…we would never have had this divine encounter, without Solomon's eye injury. God has such a bigger plan than we can ever know. Excitedly, we returned to Prakash to begin to investigate the addition of this program to RGI. Of course, there will have to be some time discussing the details with the doctor.
We covet your prayers as we being the investigation for this RGI course.
I have been coughing my head off as I wrote this Journal…in fact, it is laying on my bed with my blasted cane…Ha, Ha…Do keep us in your prayers.