Report written by Nupi and Moses:
Every year as the new batch arrive we look forward to the 5th of September to celebrate teachers day, because it gives a chance to help build confidence and self worth in students.  They also enjoy being a part of the celebrations.
All the staff members and teachers from RGI and PBI were requested to sit in a front row. Then RGI students welcomed all the teachers and staff members with a beautiful handmade greeting card and flowers.
Two girls were the mistresses of the ceremony.
Mr. Ashok Mokha (the architect who designed the RGI complex) had been wanting to send his trainee architects to RGI to see the buildings, so we arranged for them to come on 5th September thinking it would be nice to have them as special guests so the students would be encouraged. The RGI girls welcomed them with a flower bouquet and Nagesh introduced them to all.
It so happened that one of the girls from his office recognized me and came running to me and said, "Madam you are my teacher you taught me when I was at school."  I was surprised that she remembered me; I wouldn't have recognized her now that she is so grown up.  It was nice to show these girls the hostel and the educational building. These budding architects said, "More than just seeing the buildings we are impressed to see the work that you are doing for these underprivileged students.  We feel honored to get the chance to come here and see these students.  This experience has become an inspiration for us."  A few of them asked if they could come back to visit with their family so that they will also be able to see the work of Prakash.
The whole tribal group that is sent by World Vision sang a song.

The girls presented a wonderful dance I was excited to see these girls enjoy their dance specially the most quite girl of this group enjoying every move of her dance.
One girl shared from her heart her experience about every teacher of RGI.  She said she was trembling with fear when she came to the RGI hostel for the first time.  But when she entered the office and I smiled at her, her fear lessened she liked the way I talked to her.  Her first impression about the Preschool class teacher was that she looks too fashionable to be able to connect with us.  But now this girl testified that my teacher is so tender hearted that she has tears in her eyes if any one of the student cries.
This student also said that she is touched to see the dedication that the house mother has, it is not easy to stay here 24/7 leaving your family but she is touched that the warden does it for the students.  During her one-month stay this girl said she experienced motherly love from the housemother, tender care for the sick, guidance to teach and at times firmness and strictness to punish so that the girls become perfect in what they do.
One boy from PBI also gave a very nice talk about his stay at PBI and the impact that has already happened in his life.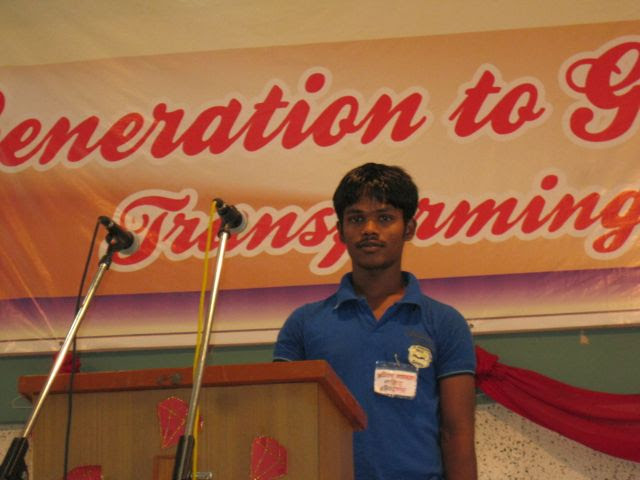 Mrs. Sneha, Pre-school teacher training teacher, made all the teachers and staff members to play a game called HOUSEY, four teachers won the prizes. It was lot of fun.
Nitin, one of the teachers and alumni of Prakash had his birthday on the 5th and all of us sang song for him.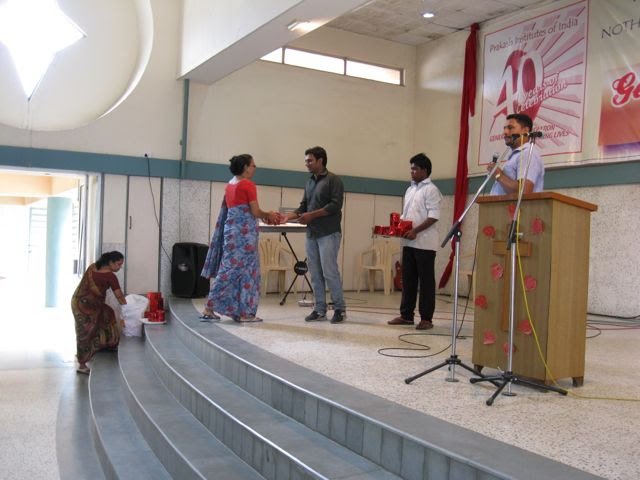 On this occasion gifts were also given to all the staff members of PBI & RGI.
The girls had helped the cook lady to cook lunch and invited all the staff to be a part of the lunch with them.  They had cooked and simple vegetarian but tasty meal.  And Papi they also made jowar rotis for the staff.  (This is one of Loren's favorite Indian foods, but difficult to make)
We had a good day of fun and fellowship.