"FLAG HOISTING DAY:"
The Directorate of Vocational Education was the chief guest for flag hoisting. After flag hoisting boys and girls sang some special songs.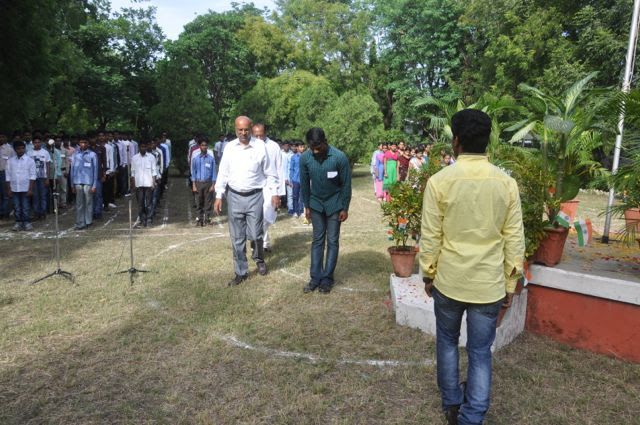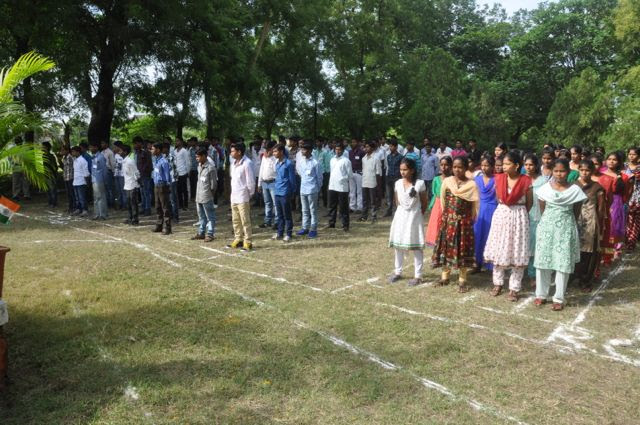 It was good to listen to some new patriotic songs. This year we are very happy to have some good musicians in RGI and Prakash too. In pictures you will see them playing musical instruments. It is such a joy to see girls playing drums and I heard that one girl even plays harmonium.
After the meeting all the teaching staff members including RGI had a meeting with the DVO and requested him to help us continue the affiliation for computer and Electric Wireman. He did give us some guidelines as how to approach the government and we have already started working according to his guidelines.
He was so impressed and thrilled to see the organization and vision of Prakash for India that he promised us we could directly go to him in case we need any guidance. Praise God for such wonderful connections.
GRADUATION:
As usual our students desperately wait for their graduation day.
Right at the beginning of the program General Director requested all the people to stand and maintain silence for two minutes in remembrance of Connor Eckhardt. General Director also reminded all the students of his time of visit and ministry here at Prakash and how he blessed us with his good smile and by teaching songs on guitar.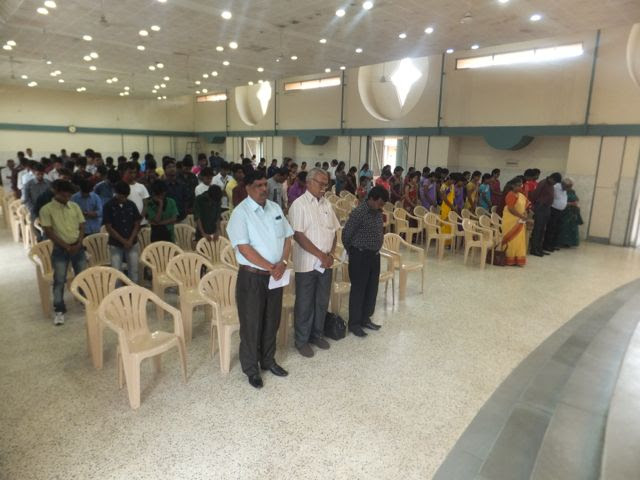 This year's graduation program was really nice. Students from both RGI and PBI gave their testimony and it was nice to listen to them. Two students from boys' side were asked to give their testimony. Both of them were full of gratitude's towards the ministry of Prakash and what the Lord has done in their lives. Both said that they were very much blessed by the teaching from the Starting Point book. They expressed their thankfulness towards all the Prakash Staff.
Manish: Manish is a tribal boy. In his speech he said, "I was a drop out from the school and everybody in my family used to say I am good for nothing. My parents even did not have money to take care of my education so I had no other option than to work and earn money. I started working in the fields and people used to call me to cut trees. I used to make some money cutting trees but that was not enough for me so I searched another job and started working as a labor on the truck. While working on the truck or lorry I could save some money and complete my education I finished my 10th grade and 12th grade. There were times when I did not have money to eat food and the truck or lorry was kind of home and bed for me as I used to spend most of my time working. After completing 12th grade one of my friends told me about Prakash Institute and I made up my mind to see if I could study at Prakash.
I was here for a year and my intention was to get skilled and get back to my place so that I can earn more money but here my life, my thoughts got transformed. Now I understand that money cannot give me good life but it is Jesus who can give me a good life. I have accepted Jesus in my life and I am sure that my life will not be the same here after."
From Girls side also two girls were given time to speak. Both of them expressed what the Lord has done in their lives in RGI. Their hearts were very much filled with thankfulness for the ministry of RGI. They expressed gratitude for the teaching, love and specially discipline that they had to go thru. They also thanked all the teachers for their valuable contribution in their lives.
(I wrote a Journal about Manisha's testimony.)
Yes, lives have been changed and they remain grateful to you.
ELECTRICAL ISSUES….AGAIN!
Yesterday a very large branch of a tree fell down on main electric wires behind old hostel toilets. When the branch fell the live wires came in contact and it affected the distribution box situated outside our campus. Since all the main wires were broken we had to call the power supply office people to fix it. It took almost a day or more for them to reconnect those wires. They kept blowing the fuse. Today we do have power supply but we have just one phase and to run the borewell pump we need three phases. Work is under progress and till it finishes we will not have water. We will steal from RGI.
No water-No bath-No EMBRACE (Loren has been trying to teach the guys to EMBRACE their wives. Not a normal custom in India.)
Prakash for India needs your support to continue to give young men and women like Manish the opportunity for a Transformed Life