Many of you over the years have asked, "How do you get students?" Well…during this VERY HOT summer holiday time all of our Executive staff has been on promotional trips concerning Prakash admissions for next term. We always want to make sure that the most deserving young people hear about the opportunity of a better life and get a chance to attend one of our schools. Sooooo read this fairly-long-can't-miss Journal and find how it is done.
PRAY THAT WE DO NOT HAVE TO TURN AWAY ANY STUDENT DUE TO LACK OF FUNDING.
Here is one report from Moses:
"I had been to one of the conferences in my hometown where almost five hundred people from different churches and places were there and I was able to promote the ministry of PBI and RGI and could connect with so many youths. It was a wonderful opportunity to talk to the parents of these youths and provide counseling to them in terms of what course they can select in PBI and RGI and in what way it will help them to be successful in their life.
Four girls from a one village are interested to join RGI so kindly pray for them."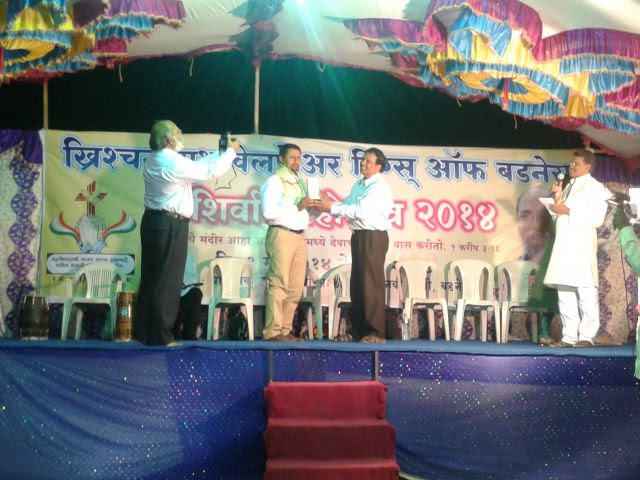 Now a report from Joy, General Director:
"One Christian Association invited me to talk to the young boys and girls who were attending the YOUTH Camp organized at Spiritual Life Centre. The topic given to me was 'Carrier Guidance and Ministry of Prakash Institute of India.' 110 young people from various places attended the camp. An alumnus of RGI was one of the participants and a student of PBI shared their experiences how Prakash has changed their life.
I had opportunity to talk to the Program Manager of World Vision of India who works in more than 50 villages. They have been sending boys and girls to Prakash for the past 3 years.
The Bharti Church, invited me to share the Word of God. I had opportunity to promote the ministry of Prakash in that big Church. The same evening we visited another village and talked to the Pastor who called few orphan girls from his village who showed interest to join RGI.
I had very good meeting the pastor of yet another place and met young people from his church.
One Christian Association is having nearly 90 small and big churches in a district about 180 km from Prakash. We had special meetings with their evangelists and asked them to talk to young boys and girls from their ministry area and encourage them to study at Prakash."
Nupi, RGI Administrator took Suresh, Nagesh, Vipul and Nitin (remember electrician for our room?) on her promotional trip. Here is her report:
"As you know I had planned to make a trip to very large area. This year I don't want to leave a stone unturned to get as many girls as possible for RGI. I am thankful to all my Prakash staff and my family who stand by me ready to help as and when called. Vipul, Nagesh, Nitin, Suresh and I went for a promotional trip on Thursday and Friday mainly of RGI, but PBI too.
Nitin proved to be of a real help to me. Not only was he our photographer, but also he had previously worked in this area as an evangelist and knew a number of villages, pastors and families where we got access into homes and were able to meet village pastors.
Suresh also knew a pastor who took us to specific homes who had daughters who could be prospect students of RGI.
Nagesh accompanied us on my request even though he was on annual leave as he had told me that he knew a few girls that have passed 12th STD in his village. All of us had a wonderful time together and we enjoyed working as a team.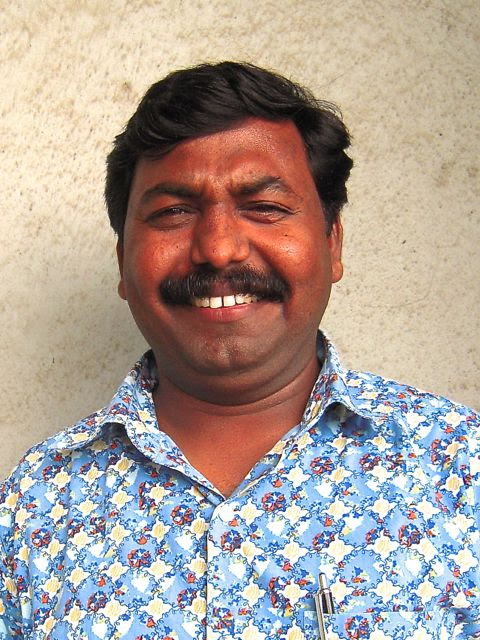 We covered 13 villages and 16 places in our tour. Vipul was sych a great driver for us. I am trying to give a chronological account of our visit and our experiences, as each visit was unique, and different in its own way.
When started at 9:30 in the morning on Thursday we took the Kalma road, as we had to visit a village called Soha. Suresh along with a pastor who works in this area took us to a house that are broom makers. This family has 2 daughters and a son. All the children were not able to pass tenth and are forced to stop their education due to poverty and their father's sickness. While talking to us, one of the daughters said, 'Education? Even if I wanted to pursue further there had come a time in our family when my father was very sick and we could not think of anything else but of satisfying the hunger of our family and therefore all of us siblings started working.'  Now the father is little better and can do some things in the house. He wants that his children should study, but finances are not enough for them to do so.  When told about RGI and PBI he said 'I now have a little ray of hope that a poor man like me can dream of sending his children for further education.'
We also visited two more houses in this village a little higher caste that we were able to tell about options available at RGI and PBI.
Our next stop was Wara…it was time for lunch. Nitin's wife had prepared lunch for us.  So we went to his house. Nitin's children were so happy to see their father. (Nitin works at Prakash during the week and travels by bus 100 miles to spend the weekends with his family.) We had lunch and proceeded to meet the superintendent of GCI Wara. The girls were gone for summer vacation but the staff was there. I had already talked to the superintendent on the phone and she had received the letter too. The 10th appeared girls (like our senior high school year) were already briefed about RGI and the educational opportunities here and Rupa a RGI alumni works as a computer teacher and matron. She has been our mouthpiece for RGI.
Next Nitin took us to village called Shah were we met two brothers and their family. Both the brothers are evangelists who drive auto rickshaw for livelihood and also have churches in the nearby villages.
Next our stop was Morh where Nitin introduced us to an 80-year-old Christian Ayurveda doctor and his 75-year-old wife who have built a room for church in their house. People from nearby villages come to their house on Friday and Sunday for prayer. 
  They have a wonderful bhajan (Christian folk music) group who sang for us and we enjoyed listening to some authentic village music. Needless to say Nagesh couldn't keep his hands off the Naal (Indian drums). Music is Nagesh's passion. This bhajan group goes to different villages and has promised to advertise about RGI. The old lady was excited about RGI and wanted to take us to her relative's village, which have 3 daughters that have appeared for 10th. She accompanied us there but the daughters were not home. Nevertheless, I was able to tell their mother and grandmother about RGI we left the prospectus with them. Also I showed them the slideshow that I have prepared, visuals sure work a lot!
Next stop was Suresh's village, which was on our way. We stopped and met Suresh's mother for a short while. Gave her handbills to distribute.
Next we went to a village called Mada where an evangelist lives that used to work for BGCH and has now retired as an employee, but not from the Lord's service. He runs a daily needs shop for living and continues his service to the Lord.
Suresh took us to a non-Christian family in the same village where we met a boy who had passed his 10th and also his neighbor's daughter. When we told her about RGI she called her father to listen and asked him, 'Will you please let me go?' Her father is much concerned about the safety of his daughter we all had to explain how safe we try to make it for girls. He took the form and is thinking to send her.
It was very late at night we found a place to have something to eat, as we all were very hungry, tired and HOT. (It is 117 degrees and NO air conditioning.)
We had called CFI and asked if they would allow us to stay overnight and we are so thankful to their general director who gave us wonderful treatment. We reached there at about 10:30 PM had more tea and ice cream. We were very thankful that we had comfortable rooms to sleep in after a long tiring day. I was able to meet Resa another RGI student who is working with CFI as a matron I was very happy to see Resa helping around in this orphanage I'll be writing a story on her soon.
I had come to know that there is a Catholic hostel run by nuns in the area for girls. We met the Sister who was at the hospital of this centre and briefed her about RGI and the courses available. This hostel had 13 girls who appeared for 10th this year. The village is in a very remote place. The Sister assured she would promote RGI to parents who come in contact with her. She also wants to visit RGI when she comes to Nagpur.
Next we went to Nagesh's village where Nagesh had arranged for young boys and girls to meet us in a house, 6 boys and 2 girls came to meet us. More girls were supposed to come but they had to go away for some urgent work. Nagesh and I were able to brief them about RGI courses. Also show them the slideshow. After our interaction I am pretty sure the two girls will be coming to RGI, they will be sending their forms to us pretty soon.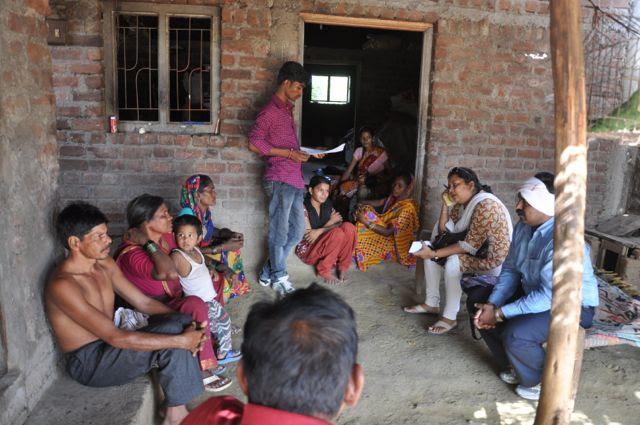 Next was our stop at World Vision office. We met the manager there who said, 'I have heard a lot about Prakash and the wonderful work that you are doing I am pleased to meet you all today.' I told them about students who are being trained in RGI from another World Vision field and he assured to promote RGI and PBI as they are going to have a program for village youth very soon. We are thankful that we were assured of full cooperation in this development project field too by World Vision.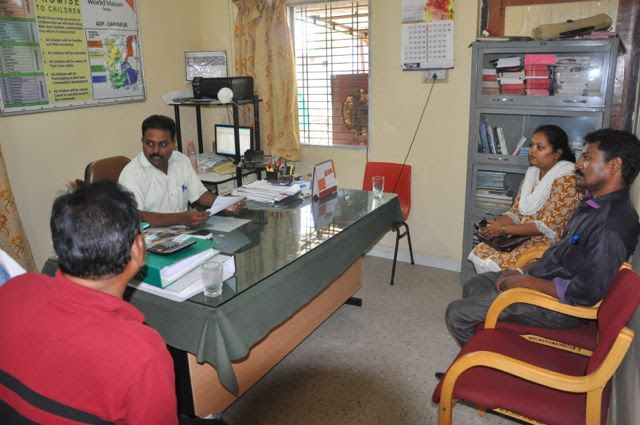 Our next village was Hyda where Nitin introduced us to these people. Four families gathered here. There were 3 girls who have given 10th exam. Again the parents were very excited about RGI and said that since Nitin is known to us and you are introduced by him we can trust you with our girls.
Next to last, but not the least was Chanda where we met a man who runs a business and a house church. He has four girls in his church. Another man introduced us to a pastor who is his tenant and working in villages around. He has already taken prospectus from us. Two other men came who also have house churches and ministry in the village.
Our last stop was BGCH where we met the general director's wife as he was away due to some work, but she assured us that he would be surely sending girls to us this year.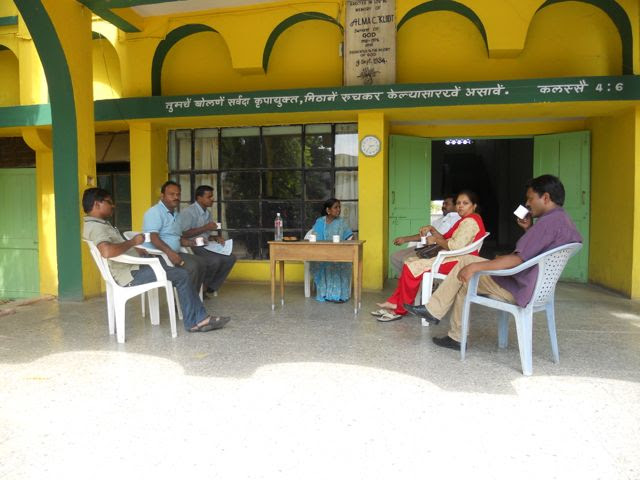 The two days were long, tiring, hectic but I enjoyed the interaction. It was a time of learning for me. I observed that regarding girls some of the problems and prayer concerns are:
        Lack of finances. Even the 8000 rupees per year stipend sometimes are beyond their reach for some villagers.
       Village people would not trust anyone that comes out of the blue when it comes to their daughters.
       I need to reach them through some known sources.
       The village mentality that girls are meant to be married away and kept safe till then…that's all.
       Girls DO want to study and become independent but the decision regarding them are mostly taken by fathers, brothers, uncles or orphanages' heads.
We have done the best that we could. We covered 525 km. (327 miles) on this trip. Now we are praying that we do get good response (fingers crossed…hands folded) I am sloshing as I write this, due to the fact, I have had my years' allotment of tea."
As you can see our staff does more than just their job description requires. Pray that we will have abundant fruit from their labors. Funding will need your fervent prayers.  Bring A LITTLE RAY OF HOPE to a marginalized young person in India