Just when I thought I have nothing to write about—All of a sudden around four o'clock yesterday the room abruptly became very dark. Loren was sleeping due to a migraine so I went running to the door. It was unbelievable scary. I cannot even describe the sound of the claps of thunder, wind and the rain literally swirling sideways. Pictures were almost impossible because the rain was rushing onto the camera lens. Windows and doors were banging—litter flying through the air. This was not like anything I have ever experienced even in Georgia.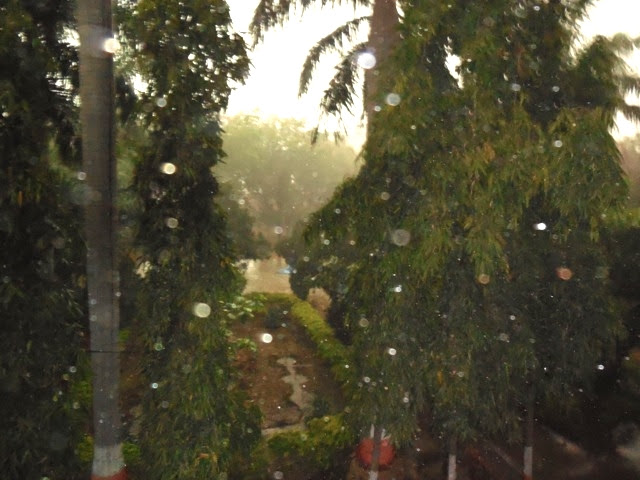 The students were in the middle of their daily routine of keeping the campus looking ship-shape. Thankfully, the housefather realized the danger and was yelling at the top of his lungs for all of them to get to their rooms.
Trees that are three stories high were bent over to the ground…then the hail came. Of course, the electricity was gone. Due to the fact that it only lasted about 15 minutes, the damage on campus was not terrible. Several trees were down and debris everywhere.
Back to the room, Loren again fell asleep. Yet again I hear a strange noise and realize it is the chainsaw. "Oh no, it is dark. What can they be doing?" Waking Loren we run downstairs to find all the safety rules being broken. With our hearts in our mouth Loren "gently" said, "STOP NOW!" LOL Needless to say, we had a meeting this morning about the safe use of the chainsaw.
Today was spent in cleanup and tree and rubbish removal. The front page of every newspaper showed the damage.
Everyone is already bemoaning the fact that wheat and food in general will be higher this year…crops were devastated.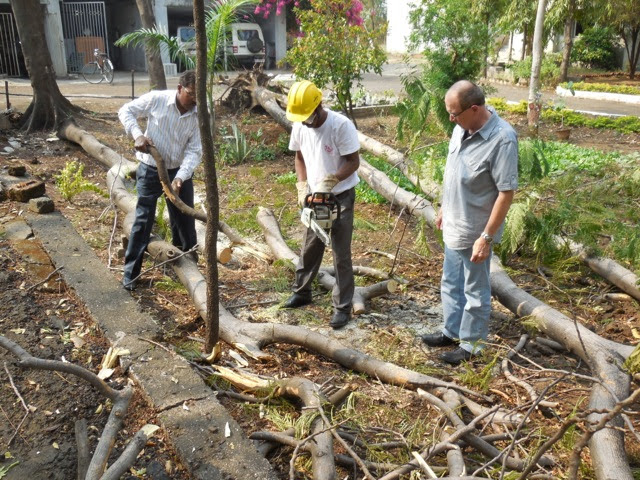 Gratefully we were in a concrete building, even though one of the concrete pillars is now tilted from the wind. God was good to us and all of our staff was safe.
Loren just finished a meeting with all the Pastors.  Pray that these men continue to have the vision for the ministry God has given them.