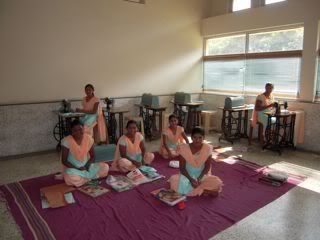 WE ARE HOME!!! It was a drastically different trip home than while going to India. Being met at curbside by a Priority Delta Skycap that directed us through all the hubbub of the Mumbai International Airport to luggage check-in. The agent was particularly cordial and then as we were ready to leave the counter for our three-hour wait, he hands us a complimentary pass to the Clipper Lounge. WOW!!!! What a difference in seating conditions. There were all kinds of foods and drinks and an extremely clean WC. Thank you Jesus for little blessings.
As our flight was called we hated to leave the lounge, so didn't rush to the gate. To our shock there was not the normal long undisciplined line. Walking vertically directly onto the plane we realized that for the first time in YEARS there was only about a half a load of passengers. Loren and I each had two seats to stretch out and sleep all the way to Amsterdam. The conditions at the Amsterdam airport were also dramatically different, with plenty of seating.
One little story I didn't get told was about my Q & A times with the RGI girls. When asking what they like best about the school, almost always it was the discipline and Starting Point. Most of them never realized that the Bible was a library of books. Sitting with the girls at my first session I saw the significant difference in the quality of the girl's Punjabis. Definitely, there is a need for uniforms.
The only thing the girls said that they disliked about RGI was that they never get off campus. Loren and I have known this was an issue with the girls. The boys get to leave campus in pairs on Saturday and Sunday afternoons. Security is such a concern. To our utter shock, we just learned that one of the biggest fears of the girls' guardians in sending them to RGI is that we may SELL the girls into slavery or prostitution. CAN YOU BELIEVE THAT???? With reports of the largest trafficking of people in the world, India does have a bad reputation. Even village people know this is happening. So building our good reputation with great care is one of the highest priorities. Next to their relationship with Jesus, it is the highest.
Then one day we were invited to come to RGI for a surprise. All the girls were in uniforms. Loren said, "You look gorgeous." With faces behind their hands and giggles abundant, they said, "Thank you Papi." They were gorgeous. What difference a simple outfit makes.
Feeling a great burden to give the girls a little reprieve from the campus, I arranged a lunch at a near-by hotel (restaurant) with a garden and play yard.
It took three trips with the mini-bus, but finally we were all seated at long tables for lunch. Only one girl had ever before been to a restaurant. It was cute to see them trying to have correct etiquette, when they didn't have a clue what some of table settings were. They carefully watched to see what teachers, Nupi or I would do. The funniest incident was when at the end of the meal a warm bowl of water with a slice of lemon was served. I didn't get one so they were truly confused. Nupi simply put her right hand in the water and began to clean her curry-covered fingers. Giggle, giggle as they all followed suit.
There was not a lot of table conversation, but I'm sure the hostel was buzzing when they returned to RGI. What joy to see them having so much fun. Some of the best money I ever spent.
We are glad to be home, but already miss India.