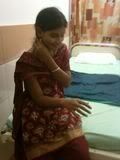 RGI has some stories to share with you. Sometimes, it is just NOT a good day.
As the academic year was about to come to an end the RGI girls were busy in completing their projects and their practical work. They have worked on their sewing machines for almost a year now, but still accidents happen. An as Papi says, "An accident is an accident."
I, Nupi, heard screaming in the classroom as I worked in the office and went to see what was all the commotion. Veedha one of our tailoring students had pierced her finger with the sewing machine needle.
The teacher was busy trying to remove the needle from the machine. Finally Veedha's hand came out, but with the needle in it. It had gone through all the way, it was half up and half down.
We called for a vehicle and Premdas, the driver, came to take Veedha to the hospital. We all thought it would be best to go to the nearest doctor in Wadi to save time. We went to one Physician but she refused to do anything and suggested we take her to the surgeon. We went to the clinic that the doctor suggested and there was no doctor, only a nurse sitting. She wouldn't do anything. Finally we decided to take Veedha to a hospital in the city—we had no other option.
By now it had started raining very heavily. We were in the Armada and the wipers were not working. Premdas could not see anything ahead we were driving slowly and Premdas suggested we might need to go back to Prakash and take the Tempo Mini Bus. My car was at RGI so I said, "Lets take my car so that it's easier to drive through the traffic." So we came to Prakash exchanged the car and started off towards Nagpur. We went to the emergency in the hospital. Veedha was quickly attended to and she was given aTetanus vaccine and an orthopedic surgeon was called. Finally the needle was removed.
All this time Veedha proved to be a brave girl she cried in the beginning, but later as I engaged her in talks she stopped crying. She even told the doctor about RGI in her brief time with him. She said to me, "Why did this happen to me? I have gained some health at RGI because you all take so good care of me. When Veedha first arrived at RGI her hemoglobin count was so low that she used to be tired and exhausted very quickly. We took her to the doctor and she was put on medicine and was given a good diet. Now her hemoglobin is good. She said, "I don't want to loose blood now or else I feel very sick but, by God's grace I will heal very fast."
Since graduation, Veedha has returned to her hostel and will be continuing her 10th class studies. She had discontinued school because of poor health. She came to RGI and studied tailoring and learned the importance of studying. She wants to study hard and take care of her mother who works hard to make the ends meet. Veedha's father had deserted her mother. Her mother started living with another man hoping that he would help take care of her children, but things did not change this man too turned out to be a drunkard. Veedha's mother has to go to peoples houses to clean utensils and works in the farms when work is available. After all these things happened in her young life, an evangelist in her village, admitted Veedha to a Christian hostel. There she studied up to 9th class. Later she came to RGI and did her tailoring. Now she is back at the orphanage to complete her 10th class.
Each girl is given an opportunity to speak to the student body at graduation. Here is Veedha's graduation day response: "I thank God for bringing me to RGI. I loved RGI, especially the kitchen and the toilets. I learned so many things at RGI. I never studied before coming to RGI, but now I understand how important it is to study. I liked the discipline here. I grew in my faith in Jesus through Starting Point. I used to be such a sickly girl before coming to RGI, but I was so well taken care of that I am much better now. I never prayed before, but now I do pray regularly. My mother is not a believer, but she saw the change in me and always reminded me to pray when I went home for vacation. I hope and pray that my mother and my father will come to the Lord through me. I loved the staff at RGI that did not let me feel I was away from my family. I used to be very upset when they disciplined me in the beginning, but later I understood the importance of their discipline. I was blessed through all the experiences at RGI."
Now on a lighter note:
Exams were over now so the girls had leisure time to cook and learn some new things. We had a special class on chocolate making.
The girls really enjoyed this class because who doesn't like chocolates when you can lick your fingers and eat the chocolates that you have made yourself. Chocolate making can prove to be a "very promising" business that the girls can do at home.