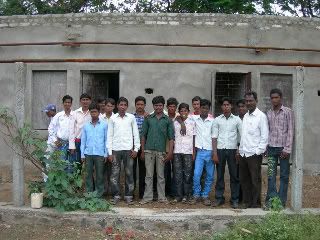 Again we have another glowing report from Dr. Suresh. His Self-Reliant Training has been one of the most successful outreach programs to Hindu young people that Prakash for India has ever initiated. Of course, it would all be impossible without dear Dr. Suresh.
"I am very happy to submit this report to you about the weeks we were busy with our Self-Reliant training. This year I taught Dairy and Goat Keeping together.
There were 12 students for this training, including four graduates in Poultry who took readmission as they realized the importance of goat keeping. It was really fun to teach these village young people and instructed them in their own tune so that they could easily understand. This, they really like and it made us more friendly. We finished several subjects in this training like Body parts of a goat, Feed Management, Diseases and its First Aid, Vaccination and its importance, Castration with new techniques, Marketing and Spiritual Education.
The students enjoyed it very much. The training was completed in a joyful atmosphere. We also had spiritual classes through the Starting Point Course.
These Hindu young people really enjoyed this class each day before starting Goat keeping training. We also had practical visits to near-by farms. Here they learned how to take care of their own animals in a Medical emergency. We also learned how to catch animals for proper diagnosis. (NOT just running, lunge, and falling flat on your face)
I must say that this training really will help these poor village young people to stand on their own feet and lend a hand in the development of their family, community and villages. I am really thankful to farmer Mr. G… for providing us residential facilities and use of his animals and other things.
Know that your support can transform many lives with Community Development through Self-Reliant Training."